Project Description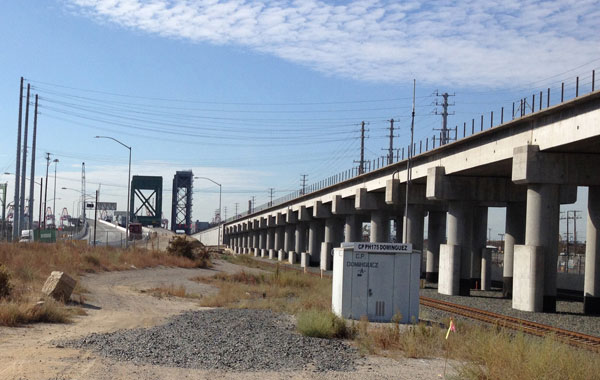 Pre Construction and Monument Perpetuation Record of Survey
A 17-sheet Record-of-Survey was prepared by Wagner Engineering & Survey, Inc. (WES) for the found survey control & established for this project in accordance with the California Land Surveyor's Act. This Record of Survey documented the found and the newly established corridor control for future engineering and construction activities. Existing record research was conducted at the County of Los Angeles, Caltrans District 7, City of Los Angeles, City of Long Beach, City of Carson, Ports of Los Angeles and Long Beach and included record Tract Maps, Parcel Maps, Assessor Parcel Maps, City maps, Caltrans ROW maps, deeds, public agency field survey notes and Corner Records. This Record-of-Survey documented gross monument movements due to subsidence in the Port area.
Right-of-Way Engineering
A 10-sheet Caltrans Right-of-Way Requirements Map was produced and checked and approved by Caltrans. Over 100 legal descriptions and plat maps were delivered to describe fee acquisitions, permanent easements and temporary construction easements.
Project Details
| | |
| --- | --- |
| Categories | |
| Location | Long Beach, CA, Los Angeles, CA |